Situs resmi anime Kishuku Gakkou no Juliet adaptasi dari manga komedi romantis karya Yousuke Kaneda merilis PV pertamanya pada hari Jumat, 03 Agustus 2018.
Diumumkan juga dua seiyuu baru yang ikut berperan: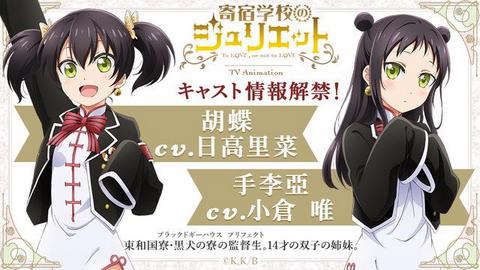 Anime ini akan mulai tayang pada bulan Oktober, musim gugur tahun ini disiarkan di MBS, TBS, dan BS-TBS. Selain itu, anime ini juga akan tayang eksklusif secara online melalui layanan Amazon Prime Video.
Lagu tema pembuka "Love with You" dibawakan oleh fripSide. Sementara lagu penutup "Itsuka Sekai ga Kawaru" dibawakan oleh Riho Iida.
Seiyuu lain yang telah diumumkan sebelumnya:
Staf utama yang terlibat dalam anime ini yaitu; Seiki Takuno (Koi to Uso) sebagai sutradara, Takao Yoshioka (Shigatsu wa Kimi no Uso) sebagai penulis dan penanggung jawab naskah. Yuuki Morimoto menangani bagian desain karakter, dan Masaru Yokoyama (Fate/Apocrypha) pada musik animenya. Proyek anime ini diproduksi di studio LIDENFILMS.
Visual baru Kishuku Gakkou no Juliet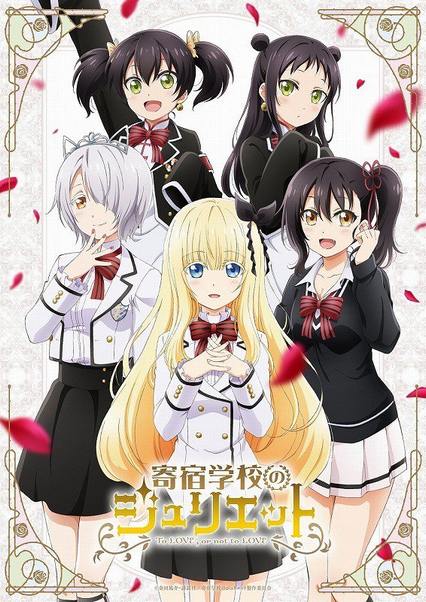 Seri ini mengisahkan cinta terlarang yang tumbuh antara dua murid dari dua negara di Akademi Dahlia. Di asrama bangsa Touwa ada Romio Inuzuka, sementara di asrama Kerajaan Barat ada kekasih dan musuh abadinya, Juliet Percia. Semuanya dimulai saat Romio mempertaruhkan nyawanya dengan mengungkapkan perasaannya.
Sumber: Juliet Anime, ANN